Busted! Kristen Stewart Gets Breast Implants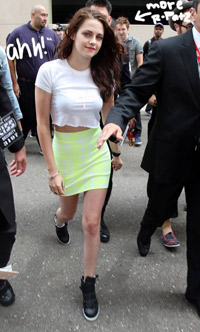 Did you hear the news? Kristen Stewart has gotten breast implants. She was spotted this past week at Comic-Con in San Diego, where she was hanging out with her Twilight co-star and estranged boyfriend Robert Pattison. Wearing a black bra, under a tiny white t-shirt, Kristen seemed to show off bigger boobs than usual. Certainly this means that Bella got breast implants . . . right?
A reporter for Star magazine took what he saw at face value; he was the first to break the news that Kristen had her breasts augmented. To plump up the story, his tabloid had a plastic surgeon's weigh in, Her breasts have gone from what looked like a large A cup to a large B cup. He was not confirming, but not denying, Kristen's procedure. The doctor, who has never seen Stewart in real life, offered this final statement: While this might be the result of a new, state-of-the-art bra, it's most likely the result of a breast augmentation.
It's important to remember, everything is not always as it seems. Obviously, the Star reporter did not think of this, or really care. His story was quickly dismissed as bunk. The unnamed cosmetic surgeon eventually called Kristen's breast augmentation story a complete fabrication. Star magazine had even published a similar, made-up story back in November of 2010, claiming Stewart was determined to get her breasts done and had to be talked out of it last minute. After seeing Kristen's curves at Comic-Con, the shameless reporter had decided to take another shot at the story.
A source close to Stewart says Star magazine's latest speculations about the actress' body are untrue and ridiculous. Stewart has not had a boob job, nor is she planning on one. So why did Kristen look so beautiful and busty that day? An educated guess points to a well picked out push-up bra, some intelligent stylists, and the mere fact that Kristen is such a beautiful girl. Never underestimate the many ways a woman has for changing up her looks!