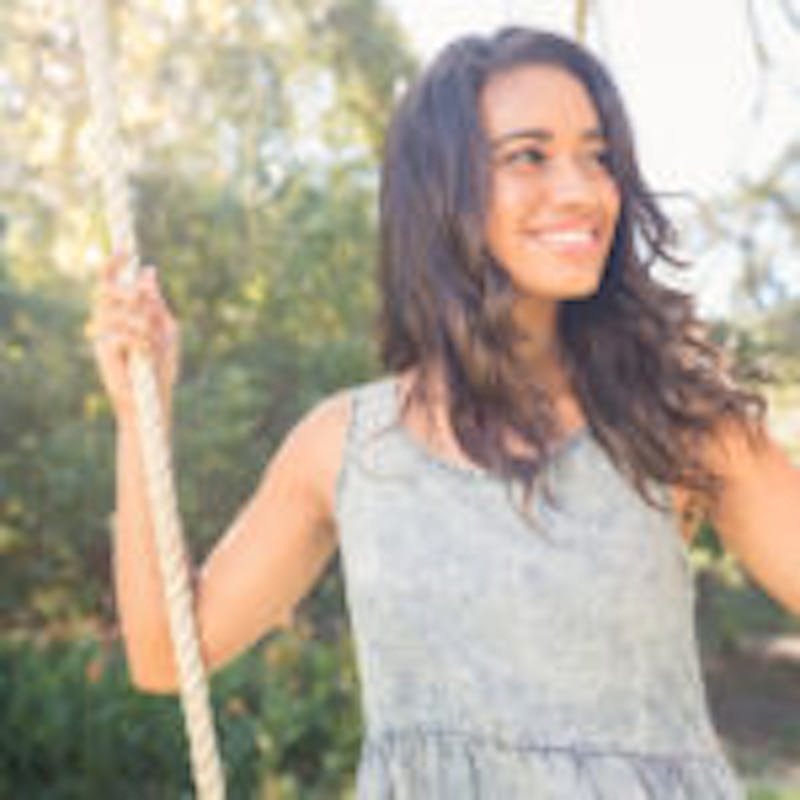 How Breast Reduction Surgery Can Improve your Quality of Life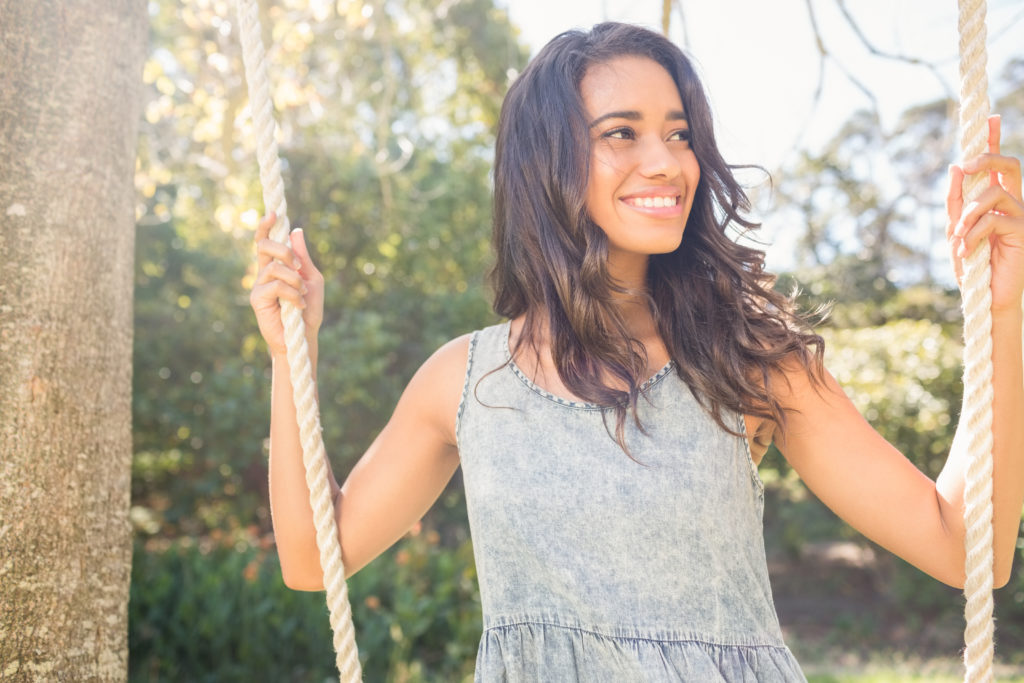 Any part of the body that is disproportionate can become a source of embarrassment or unhappiness over time. Women (and also men) who have overly large breasts can experience cosmetic and health issues that take away from their quality of life in many ways. Fortunately, there is a solution to this problem: breast reduction surgery, which involves reducing the size and weight of the breasts to create a more proportional look.
As common as this type of surgery has become, not just any surgeon can deliver quality results. Dr. Paul Vitenas, a specialist in cosmetic, plastic and reconstructive surgery, is a Houston-based physician who has the level of training and expertise necessary to deliver the results you expect. Keep reading to find out more about the many ways a breast reduction surgery could improve your quality of life.
Common Issues With Large Breasts
While not all women with large breasts experience problems (or even consider large breasts to be a problem), common problems with large breasts tend to center around issues involving comfort, mobility, and self-esteem. These issues range from problems with posture to difficulty breastfeeding.
A woman's lifestyle may also be encumbered by overly large breasts. Active women, particularly active, young women, can easily become discouraged from participating in sports due to issues surrounding their breast size. Any excess weight carried in the chest can interfere with a woman's athletic ability over time.
Comfort & Mobility Benefits of Breast Reduction
Women with large breasts bear a lot of weight on their back, shoulders and neck muscles that can cause chronic pain. Also, many women experience pain from bra straps cutting into their skin or develop uncomfortable rashes under the breasts.
Having smaller breasts reduces or completely eliminates these problems. Exercise and activity, in general, become more comfortable. Posture improvements can also be expected when the weight-load decreases. Many women even experience improved sleep quality after the procedure, due to an increase in general comfort.
Improved Body Image and Self-Esteem
More than a few women have developed a poor self-image and low self-esteem due to issues brought on by overly large breasts. Not being able to find clothes that fit, such as blouses and bathing suits, not to mention the unwanted attention large breasts may draw can wear away at a woman's sense of self-worth over time. A breast reduction procedure can help in these areas and help a woman feel more confident.
As a specialist in the field, Dr. Vitenas will work with you to design the breast size and shape that best match your preferences and overall lifestyle. You can expect to experience a new feeling of self-confidence once you have healed from surgery, and body image issues may be a thing of the past.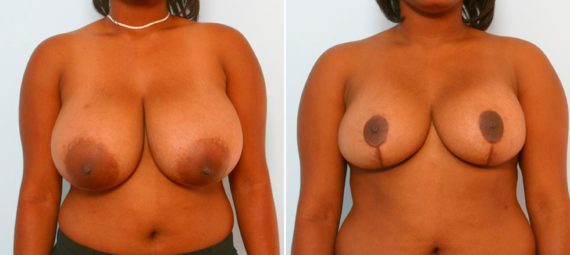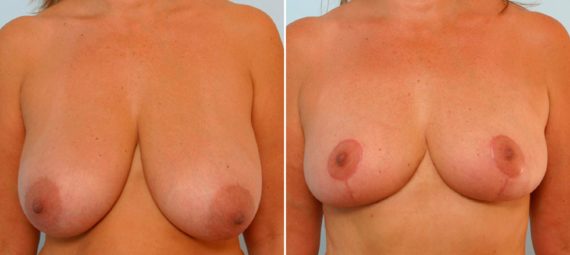 Before & After Photos*
Aesthetic Improvements
It's not uncommon for large breasts to give the impression of added pounds to a woman's overall appearance. This effect is further compounded when clothes don't fit as they should. Aesthetic benefits are yet another benefit of a reduction procedure, making the breasts look more symmetrical and more proportional to a patient's height and build.
A reduction procedure leaves you with a slimmer profile. Also, when you're working with a surgeon who specializes in cosmetic surgery, you can incorporate a breast lift option to further enhance the outcome. A breast lift repositions and reshapes sagging breast tissue caused by age, pregnancy or gravity.
Insurance Coverage Benefits
Due to the physical strain large breasts place on the back, neck, and shoulders, health insurance companies will sometimes cover a reduction procedure. Unusually large breasts often cause chronic medical problems to develop, such as back pain, headaches, and nerve pain. In turn, these conditions can interfere with a woman's ability to get a restful night's sleep, which can bring on a host of other health issues over time.
Insurance companies recognize the cost benefits of a reduction procedure. Chronic, pain-related conditions require ongoing treatment, not to mention the risks associated with taking prescription pain relievers. All of this can be eliminated through one procedure, which drives insurance costs down.
Long-Term Benefits
A reduction procedure not only improves the patient's quality of life in the short-term but also provides long-term benefits, especially for young women. A study published in the Journal of Plastic and Reconstructive Surgery found that women younger than 25 experienced significant quality of life improvements for decades after having a reduction procedure. These benefits included physical comfort, ongoing satisfaction with body image, and improvements in overall well-being.
The study spanned the course of 10 to 32 years with researchers following up on participant satisfaction. Researchers found that the resulting improvements translated into increased psychosocial well-being. Participants reported an increased willingness to be more social along with increased exercise and sports engagement.
Male Breast Reduction Benefits
While women are more likely to experience problems with large breasts, some men also struggle with these issues. Certain medical conditions and the use of some drugs can cause breast enlargement in men, a condition that is known as gynecomastia. A reduction procedure can address this condition.
During the surgery, the surgeon removes excess fat and breast tissue, along with any loose skin when needed. The result is a firmer, flatter, more masculine appearance. The overall impression is improved contours along the upper torso region.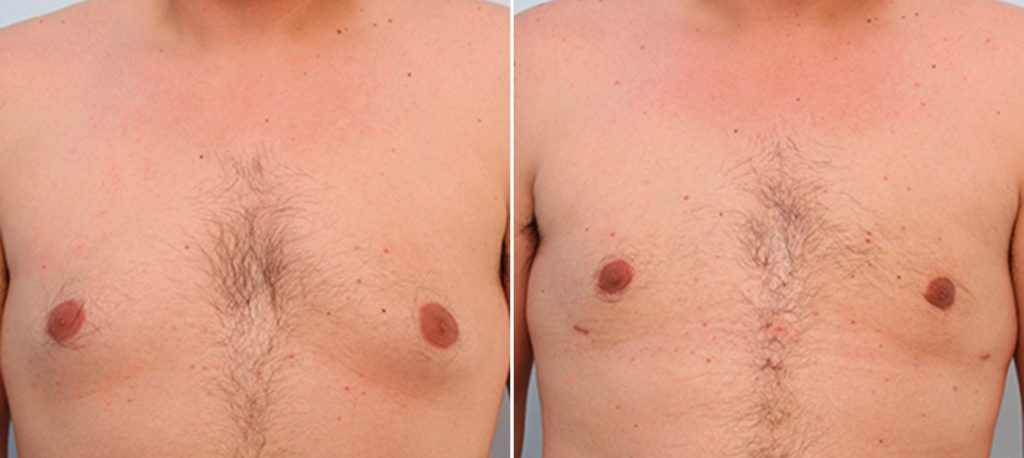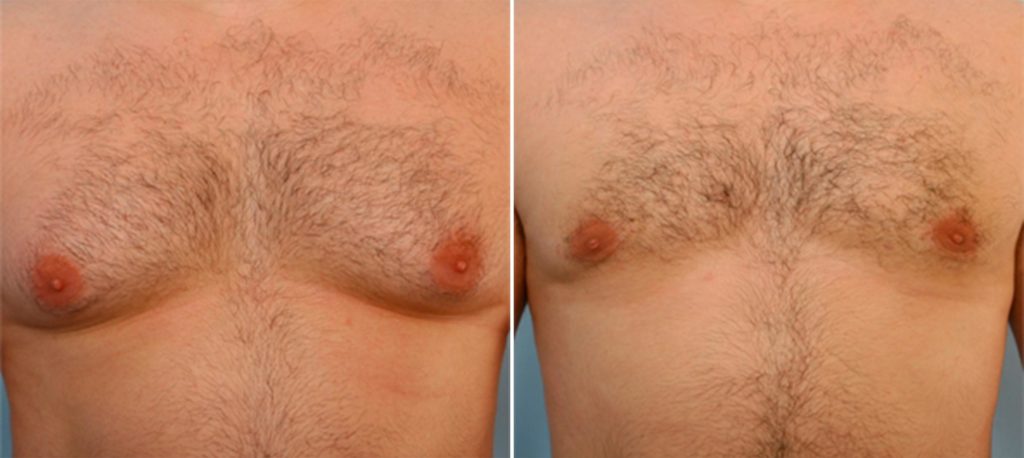 Vitenas Cosmetic Surgery – Quality & Experience Make All the Difference
While reduction surgeries have become more common in recent years, it's important to realize that your surgeon's training and experience can make all the difference. Only proper training and years of experience can equip a surgeon with the expertise needed to deliver the level of results you expect.
Dr. Vitanas is board-certified by the American Board of Plastic Surgery. Board-certification indicates that your surgeon has undergone rigorous training and has worked the required number of hours in the field to be considered a specialist.
Vitenas Cosmetic Surgery in Houston, TX, is a state-of-the-art facility that uses the most advanced technology in the field. These accommodations enable Dr. Vitenas to provide the level of individually tailored care that you expect and quality outcomes that you'll enjoy for years to come. Call our office today at 281-484-0088 for more information or to schedule a one-on-one consult with the doctor.
Share this page