While rhinoplasty can make an excellent choice for those looking to reshape or resize the nose, not everyone is ready to commit to the cost, recovery, and potential complications that are associated with nasal surgery. This is when the non-surgical rhinoplasty procedure makes a great alternative.
Excellent Results, Without Surgery
Believe it or not, it is completely possible to achieve the smooth, contoured nose you've been dreaming of, without an invasive operation. The non-surgical rhinoplasty option, offered here at Vitenas Cosmetic Surgery, will effectively enhance the shape of your nose, disguising the presence of any imperfections and creating a more attractive sense of facial harmony. To learn more, reach out to us at our Houston location and set up your consultation today.
Non-Surgical Rhinoplasty
Before & Afters
Each Patient is Unique and Individual Results May Vary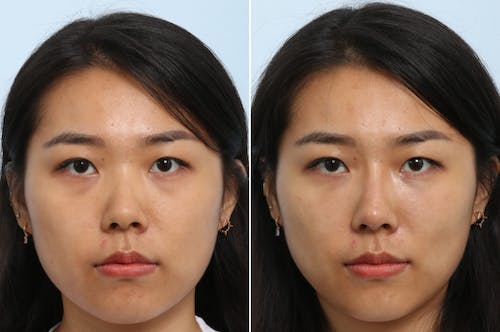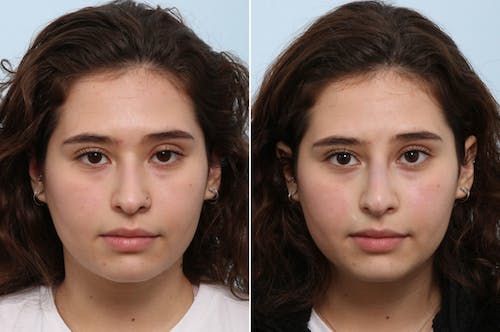 Each Patient is Unique and Individual Results May Vary
How Can Non-Surgical Rhinoplasty Help Me?
When you visit Vitenas Cosmetic Surgery, you'll get the chance to meet with Dr. Vitenas and thoroughly explore your options. We're excited to offer a number of exciting cosmetic options, and Dr. Vitenas makes it a point to work closely with each one of his patients. He'll get to know your cosmetic goals, learn about your lifestyle, and guide you to the treatment option that's right for you. You'll be a great candidate for non-surgical rhinoplasty if you're looking for a good way to:
Smooth humps or bumps on the nasal bridge
Straighten a "crooked" nose
Improve definition on a flat or wide nose
Add fullness and shape to a narrow nose
Lift and highlight a small nasal tip
Disguise a misshapen or bulbous nasal tip
Our Non-Surgical Rhinoplasty Results
The non-surgical rhinoplasty procedure utilizes soft tissue fillers like Restylane to meticulously add volume and fullness to nasal tissues. This cutting-edge technique can be used to improve the appearance of a nose that is misshapen due to either genetics or trauma and can even correct issues that are the result of a previous rhinoplasty procedure. 
By carefully applying a series of injections with a hyaluronic acid dermal filler, Dr. Paul Vitenas can improve the contour of the nasal bridge, straightening and highlighting the nose's shape and lifting and projecting the nasal tip.
"Dr. Vitenas and his staff are amazing!They are professional and will allay your concerns by answering any questions you might have. As an African-American, finding a doctor knowledgeable about my features has been difficult. After 2 unsuccessful surgeries, I decided to try nonsurgical rhinoplasty. The results are incredible! Dr. Vitenas is the only surgeon that knew exactly what I wanted and achieved the results I desired! My only regret is not seeking his services sooner. I have never been this confident in my appearance and I owe it all to Dr. Vitenas. I highly recommend Vitenas Cosmetic Surgery."
The ideal candidate for a non-surgical rhinoplasty will be in overall good health, understand the dermal filler treatment process, and hold realistic expectations for their final results. While Dr. Vitenas' technique is excellent for those looking for mild to moderate correction, the nonsurgical rhinoplasty is not for everyone.  You should also be aware of the different pros and cons of non surgical rhinoplasty.
Before the procedure, you'll set up a consultation appointment with Dr. Vitenas. At this time, Dr. Vitenas will perform an in-depth examination of your nasal anatomy, getting to know your desired aesthetic results and determining if a non-surgical rhinoplasty technique is suitable for you and your lifestyle.
Each non-surgical rhinoplasty will be performed in a private treatment room, right in our comfortable Houston location. The procedure typically takes less than 30 minutes to complete. 
Treatment with fillers is not considered painful and is generally well-tolerated by most patients. However, for additional comfort, Dr. Vitenas may also add a topical numbing cream.
Each injection may result in pressure or a pinching sensation. Many dermal fillers are premixed with a local anesthetic that numbs the treatment area with every injection.
Dr. Vitenas will use a very thin needle to inject the soft tissue filler directly under your skin, along the targeted area of the nose. Your non-surgical rhinoplasty will be custom-tailored to your specific needs and cosmetic goals.
Looking Forward to Your Results
You won't have any downtime or recovery period after your non-surgical rhinoplasty, and you'll be able to rejoin your daily routine as soon as you leave our office. You may experience some mild swelling, redness, and tenderness for a few days, but this is quite common and will fade within a day or two. Bruising is also common. More serious complications, such as infection or nerve damage, are quite rare.
A Practitioner You Can Trust
Dr. Vitenas combines over 30 years of plastic surgery experience with extensive training in state-of-the-art noninvasive techniques, to provide you with the safest and most rewarding results available. 
If you're interested in finding out whether or not a non-surgical rhinoplasty can create the attractive, aesthetically pleasing nose that you desire, contact Vitenas Cosmetic Surgery. Reach out to us at our Houston location today and speak with a helpful member of our team to set up your initial consultation.
Non-Surgical Rhinoplasty

FAQ
What is a nonsurgical rhinoplasty?
The non-surgical rhinoplasty is an innovative technique using hyaluronic acid fillers to smooth and straighten the nose. A cutting-edge option to the traditional, surgical nose job, Dr. Vitenas' nonsurgical rhinoplasty can provide a contoured, shapely nose in just a few minutes with little chance for complications.
Am I a good candidate for the non-surgical rhinoplasty technique?
Anyone in generally good health, who is unhappy with the shape or contour of the nose, yet not ready to commit to a surgical procedure, may make a good candidate for nonsurgical rhinoplasty. Potential patients should understand the filler treatment and hold realistic expectations for their results.
When can I go back to work after my nonsurgical rhinoplasty?
As a non-surgical rhinoplasty does not involve any incisions or sutures, there is no downtime required. Most patients tolerate their treatment well, and can be back to their normal activities the same afternoon.
How long will the results from my non-surgical rhinoplasty last?
The benefits of dermal fillers are temporary. Depending on the exact filler used for your nonsurgical rhinoplasty, and the extent of correction, your results will last from three months to over a year. Once the benefits begin to fade, the nonsurgical rhinoplasty treatment can safely be repeated.
What are the potential side-effects and complications from a nonsurgical rhinoplasty?
Dr. Vitenas utilizes cutting-edge dermal fillers and noninvasive techniques for safely improving the shape or contour of the nose. Although side-effects of treatment are generally mild, including pinpoint bleeding, swelling, redness, and bruising, more serious complications are rare. Risks of fillers can include infection, nerve damage, asymmetry, and scarring.
How much will my nonsurgical rhinoplasty cost?How much will my nonsurgical rhinoplasty cost?
The exact nonsurgical rhinoplasty cost will depend on the exact filler used and the extent of correction, generally ranging from $1,000 to $1,500. During your consultation, Dr. Vitenas will create a treatment plan around your specific needs, determining the exact price at this time.
Can I finance my nonsurgical rhinoplasty?
Vitenas Cosmetic Surgery offers patients a variety of payment options, making a nonsurgical rhinoplasty affordable on almost any budget. We accept cash and all major credit cards, as well as health care financing through CareCredit and Alpheon Credit. For more information on financing your procedure, contact our office at 281-484-0088, or go to CareCredit to apply for your line of credit online.