Modern Mammaries: Sophia Vergara Talks Breast Enhancement Surgery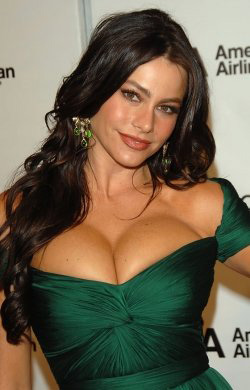 Gloria Pritchett is the feisty, fun-loving, Columbian wife of Jay on NBC's Modern Family. Loved not only for her sharp-tongue and delicious Spanish accent, but also for her sexy, hour-glass figure. Even if you don't watch prime time TV, chances are you know of spicy Gloria, or at least the actress who brought her to life, the gorgeous Sophia Vergara.
The 40 year old Vergara has never shied away from talking about everything from aging, to her cosmetic surgery plans. Recently, when asked if she would ever consider cosmetic surgery, Vergara said, "Yeah, I would definitely do something. Not something crazy but little things here or there. Hopefully, when the time comes and I'm considering it, there will be even better treatments out there." While Sophia argues that plastic surgery can't really make someone look young again, she reasons that it can provide self-confidence and joy.
In the November issue of Lucky magazine, Vergara says as a teen, she had an extremely difficult time adjusting to her developing body and large breasts. Over time, Sophia has come to embrace her cleavage, but it still remains a love/hate relationship. The bombshell breasts are a large part of her sex-appeal, but at the same time, they will be a burden as she ages. Sporting a size 34F bust, Vergara knows the time will come for surgical enhancement. I know [my breasts] have opened doors, let's be real, I already know I am going to get a breast lift.
Vergara is not the only Hollywood hottie to talk about their naturally billowing breasts. Mad Men's Christina Hendricks, and pop-princess Katy Perry, both have shared the drawbacks of having a well-endowed chest. The extra weight is hard on their back and shoulders, and can prove an endless challenge to find perfectly fitting clothing and bras. Even having the best stylists and make-up artists cannot help the effects of time and gravity. Large breasts have the tendency to stretch, becoming saggy and shapeless. The eventual solution will be a breast lift, raising the girls to their original level, and implants, which will give back lost volume and fullness.
Contact Dr. Vitenas, at Vitenas Cosmetic Surgery for a consultation to discuss which options will be best for you…