Old vs. New Sunscreen Rules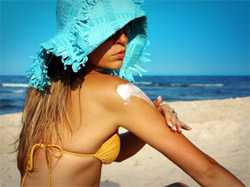 Have you ever felt overwhelmed when deciding on your next sunscreen purchase? There are a lot of options available; everything from sunscreen to sunblock, water-proof, water-resistant, specially formulated for babies, designed for your hair, non-greasy formula, dry-touch formula, sunscreen with bronzer, sunscreen with tan enhancer, creams, sticks, gels, sprays, UVA protectant, UVB protectant, and SPF 4 to SPF 150! No wonder why so many people choose to skip the sunscreen and just head to the beach. Thanks to the FDA's recent updates on the labeling of sunscreen products, you will be able to choose from a more reasonable selection of sunscreens with more protection.
OLD The SPF rating only reflected its ability to protect against UVB rays, which cause sunburns and nothing about UVA rays, which cause sun damage consisting of premature aging, wrinkles, uneven pigmented lesions such as melasma and age spots and UVA damages your DNA!
NEW The SPF rating will now indicate if the sunscreen provides UVA, UVB or UVA and UVB protection. If the product provides UVA & UVB protection it will be labeled broad spectrum. You want to make sure to use a sunscreen that provides broad spectrum protection in order to protect yourself from sunburn and skin cancer from UVB rays as well as premature aging from UVA rays.
OLDÂ Sunscreens could be labeled waterproof or sweat-proof.
New The FDA has banned terms such as waterproof and sweat-proof due to the fact that all sunscreens wash off over time. Products will now be labeled water-resistant as well as informing the consumer how often the products will need to be reapplied.
OLDSunscreens with SPF of 100+
NEW The FDA has capped the SPF to 50 for multiple reasons. One to end the numbers game that was plaguing consumers and increasing cost and two due to the fact that there was no research to validate claims that products with 50+ SPF provided greater protection. Did you know that an SPF 30 blocks 97 percent of UVB rays and SPF 45 blocks 98 percent only 1 percent more. The 100% truth is that no sunscreen offers 100 percent protection.
OLD Some products were labeled as sun blocks.
NEW The FDA has banned the term sunblock, as it was a misrepresentation of the effectiveness of the product. Like previously stated, no product blocks all UV light.
So keep your eye out for these new regulations as they will be in effect by summer! And make sure to wear a sunscreen that offers both UVA & UVB protection.