Smooth Operators: Radiesse and Juvederm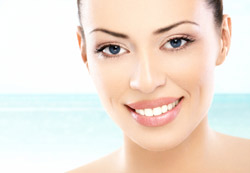 Across the United States, the popularity of injectable dermal fillers is steadily on the rise, providing fast and easy, nonsurgical facelift solutions. In particular, Radiesse and Juvederm are used by cosmetic surgeons to soften lines and wrinkles, fill in scars, plump up lips, and provide contours to hollow areas on the face.
What is a Dermal Filler?
A dermal filler is a smooth gel, injected just below the dermis with a very thin needle, and naturally absorbed by the body over time. During a quick and painless office procedure, dermal fillers are used to replenish lost facial volume, plump up narrow lips, fill in fine lip lines, as well to as level over deep, furrowing lines around the forehead, eyes, nose, and mouth. With dermal fillers, long-lasting facial rejuvenation can be achieved in minutes.
Radiesse and Juvederm are very effective dermal fillers, providing nonsurgical options to temporarily reverse the aging process, restore a more youthful appearance, and stimulate new collagen growth. They are FDA approved and carry minimal side effects. Procedures take less than an hour in the cosmetic surgeon's office, are relatively pain-free, and have hardly any downtime.
Radiesse
Radiesse (Calcium Hydroxylapatite) immediately reduces wrinkles and the appearance of lines around the mouth and nose. Scars can be filled in with Radiesse, evening the look of the skin. Radiesse adds volume and lift to the skin, although it is not recommended for use around the lips. The results from Radiesse last for up to two years or more.
Juvederm Injectiable Gel
Juvederm (Hyaluronic Acid) is a naturally occurring substance in human tissue. It is used to improve folds around the nose and mouth, frown lines, crow's feet, and to plump the lips.
Juvederm is an extremely versatile product, approved for use on virtually any area of the face. It is less expensive than Radiesse and the results can last from six months to one year.
Isn't it about time you considered a dermal filler? Call Vitenas Cosmetic Surgery to get more information about Juvederm and/or Radiesse can help you achieve a youthful appearance.