What Bras to Get Following a Breast Augmentation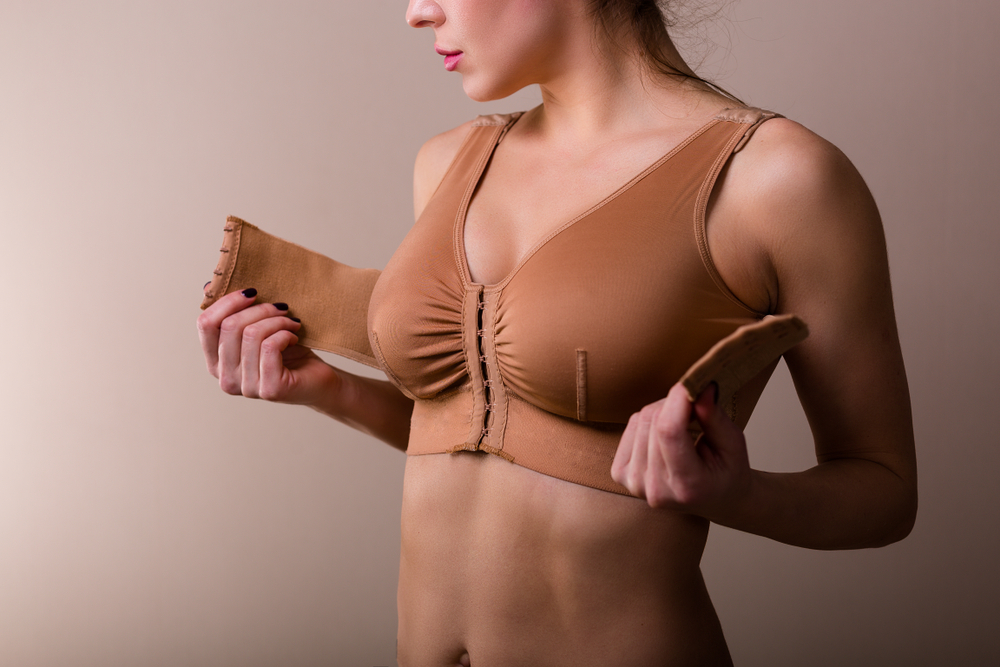 Some women opt for breast implant surgery for several reasons. to feel more confident, or to rectify uneven breasts after breast surgery or other complications. While the recovery process is strenuous, one key component not talked about is what type of bra/ garment to use following your breast surgery. Here, we dive into more information concerning the type of bras you should wear, and what will help with recovery.
Best Bras After Breast Augmentation
With newly augmented breasts, bras can be pricey. Be it as it may, it's advised not to put on a particular post-surgery bra after surgery such as lumpectomy or mastectomy unless you are directed by a surgeon.
To help you avoid throwing your money after the augmentation, below are the best bras for you after augmentation.
Seamless Bras
Seamless bras help to keep away irritation. The irritation results from scar tissue after the augmentation that feels itchy and sensitive for some time. They also fit perfectly under form-fitting clothes. It helps to boost one's self-esteem.
Seamless bras feature molded cups to strengthen and lift your new breasts. They also have wide padded straps to spread the pressure of your implants across the shoulder for better comfort. Finally, they feature wide underbust cups that provide add-up support.
Sleep Bras
To preserve the shape of your implants, your surgeon may advise you to sleep in your post-surgical bras for about six weeks. The best sleep bras are ones made from ultra-soft flexible materials. It helps to keep you safe while you enjoy your sleep.
They feature a mild compression, moisture-woven cord, and temperature-controlled technology to keep you cool and dry the whole night.
Leisure Bras
Rest is part of the healing process. It allows your body to slowly recover and adjust to your new breasts. As such, leisure bras provide the utmost comfort and flexibility. They are made from soft material to increase your comfort while resting.
They feature high cotton content which is soft and tender to your breast. They also have front hook-and-eye-closures for easier dressing to prevent injury. They offer support to your neck and back as you adjust to the new weight after augmentation.
Lastly, they have wide straps that flow into a wide back panel that helps to distribute weight across your shoulders.
Sports Bras
According to plastic surgeons, before your implants settle into position, it takes time before you can exercise, drive, and lift things. A high-quality bra will provide needed support. They will help to reduce bounce keeping your implants in position as you exercise.
Sports bras feature three-panel cups and wide elastic bands that provide soft compression. They separate and lift breasts to keep them safe while you exercise. Sports bras also have a terry cloth lining to absorb moisture. The back is tailored from lightweight mesh for optimal breathability.
Post-Surgical Compression Bras
Immediately after your breast augmentation, your surgeon will recommend you wear a post-surgical bra. Post-surgical compression bras help to prevent breast implant dislocation and lymphedema among other complications.
Post-Surgical Compression bras feature over-the-shoulder Velcro straps and front closure which has hook-and-eye and zippered fasteners. They both allow quick and easy dressing. They also allow quick changing of drainage tubes as well as cleaning the incision site.
The bra promotes the flow of blood and lymph fluid. It is comfortable with a compression chest belt that holds the breasts from rising high on the chest wall.
Insights for Wearing a Bra after Augmentation
Avoid wearing underwire bras for at least 4 months after breast augmentation. Underwire bras can damage implants and irritate the scar tissue making it visible.
Soreness and swelling are expected after a few weeks. However, they will fade away after some time but they will not disappear completely. While you start to heal, your surgeon might prescribe pain medication. Alternatively, compression bras or sports bras might help to provide support and positioning of the implants.
Final Thoughts
Once you have your breasts settled after augmentation, take care of them so that they last for long. Don't wear the same bra in a row. Still, wearing a bra more often will cause it to stretch and lose elasticity. As such, it won't provide much-needed support.
Start putting on your bra on the largest hook. You can slowly move to the smaller hooks after the big ones start to lose elasticity. The smaller hooks will provide a more supportive fit.
Wash your bras with care using cold water and the delicate cycle. Avoid using the drier to wash your bras because the heat will damage them.
Finding the right bra is as essential as shopping for the right bra. If you are unable to find the correct bra, your surgeon can provide more advice. Finally, your breast will continue to age after augmentation. Weight loss or weight gain might change the way your breasts look.
Share this page