Houston Body Lift
What is a Body Lift?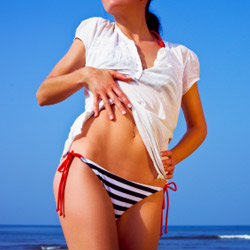 A Body Lift is a cosmetic surgery procedure that combines a tummy tuck and a lower back lift to give a woman a more pleasing, shapely figure. This is done by removing extra skin and fat from the belly, hips, buttocks, and lower back. The result is a narrow waist, flat stomach, and contoured butt. A Body Lift is a life-changing procedure; it provides a beautiful sculpted shape that was not possible before.
The Body Lift procedure started years ago at Vitenas Cosmetic Surgery, when it was first noticed that a tummy tuck alone did not give a woman optimal results. With a Body Lift, the full circumference of the body is addressed. Depending on a woman's specific needs, other procedures can be combined with a Body Lift, such as a breast lift, liposuction, or arm lift.
A Body Lift is can be combined with other procedures, therefore it has several benefits:
One surgery will address multiple areas
Cost-effective, the price is less than having several separate procedures
Less time missed from work & less time to recover
Full anesthesia only needed one time
More dramatic and noticeable results than with a single procedure
Why Would I Want a Body Lift?
Over time, we gain weight, lose muscle tone, and begin to sag in places like our stomach and buttocks. When there is an excess of loose, fatty skin – no amount of exercise or dieting will give back a tight firm shape. This can be extremely frustrating, especially after losing a large amount of weight. Clothing will not fit correctly and the body is an unsightly mass of droopy skin. Over time, we lose hope for a beautiful body and give up on ourselves.
A Body Lift can bring hope where there was none. It does so much more than just flatten your stomach and give you a perkier butt. It actually gives back your waistline and creates an hourglass figure. Tight clothing fits like they should. Jeans can be worn without excess skin bunching over the pant line. A swimsuit will show off curves that may never have existed before. Best of all, a beautiful body becomes attainable. Having a body to be proud of can mean finally being comfortable going to the gym, exercising, and feeling good. It means poise and the self-confidence to take control of your life. A Body Lift provides you with a new, highly deserved, lease on life.
Am I a Good Candidate?
Vitenas Cosmetic Surgery defines an ideal Body Lift candidate as an overall healthy individual. People who have lost a large amount of weight, especially through Gastric Bypass surgery, also make excellent Body Lift candidates. Patients can range in age from their mid-20's up to their mid-60's. Even women who are considering future pregnancies can benefit from a Body Lift, as the procedure will not interfere with healthy childbearing. Whatever your physical situation, it is worth discussing a Body Lift with Dr. Vitenas, to see if it is right for you.
What Can I Expect at My Consultation?
Always take time researching your physician before setting up your first appointment. Remember, only the very best will do when it comes to such a specialized procedure as the Body Lift, on something as precious as your body. This is also the time for you to get to know and develop a trust with your surgeon. Ask questions about his training, his board certifications, and most importantly, his experience with Body Lifts.
Vitenas Cosmetic Surgery offers Body Lift consultations, providing you with an opportunity to meet the doctor and find out if the procedure is right for you. At your office visit, Dr. Vitenas will sit down with you to discuss your cosmetic needs and wants. He will share before and after photos of his previous Body Lifts, as well as show you the areas on your body that will be improved. Then he will take a detailed history and perform a full physical examination. Dr. Vitenas will talk to you about the pros/cons of the procedure, as well as what to expect before, during, and after the surgery.
What Does the Procedure Consist of?
The Body Lift procedure is performed in a hospital operating room under general anesthesia. First, a thin incision is made at the belt line, around the entire waist. Excess skin and stomach fat is removed, and the abdominal walls are tightened. The skin is then pulled down tight and the belly button is restored. Next, excess skin and fatty tissue are removed from the lower back. Liposuction may be used around the back, waist, and thigh area. The skin of the buttocks is then lifted up and sutured tight. Finally, the area above the hips is cinched in to sculpt a slender waistline. All total, the Body Lift procedure can take anywhere from three to five hours.
After the Surgery:
An overnight hospital stay may be required after a Body Lift. Vitenas Cosmetic Surgery will give you special instructions that need to be followed after you are discharged. Pain medications will be prescribed to keep you comfortable at home. Patients should avoid any bending, straining, or lifting for the first week. After about two weeks, you may return to work and get back to a normal routine. By six weeks post-surgery, you should be feeling yourself and able to resume all of your normal activities.
You will notice the results of your Body Lift immediately after surgery. Your smooth stomach, tight buttocks, and hourglass figure will be apparent as soon as you look in the mirror. The areas with liposuction will continue to improve over the next 3 months. Although the scars may take up to a year to fully mature and fade, they will be minimal compared to the beautiful new shape of your body.
What Are the Risks?
All major surgeries hold some risks, so it is vital to discuss these with your surgeon before your procedure. Complications can include the potential for small skin separations or fluid accumulation. Problems such as infection, bleeding, reduced sensation in the incision area, scarring, and skin discoloration can occur, although all of these are much less common.
How Much Will My Total Body Lift Cost?
On average, a Body Lift starts at about $16,000. To help manage the high cost of the procedure, Vitenas Cosmetic Surgery can assist you with various health care financing options. These let you pay for your procedure on a monthly basis, interest-free, and without paying a large sum up front.
How Do I Get Started?
Get on the internet and search "Body Lift". You will find a good assortment of before and after pictures that will give you some idea of the wonders that can be accomplished with this type of surgery. There are many informative websites, such as The American Society of Plastic Surgery's page at "www.plasticsurgery.org" so do your homework. The next step will then be to pick up the phone, call Vitenas Cosmetic Surgery, and set up your private consultation.
About the Doctor:
Dr. Vitenas is a nationally recognized, board-certified cosmetic surgeon with over twenty-five years of experience. He brings more to each patient then just his skill, talent, and expertise. When performing a Body Lift, Dr. Vitenas also brings artistry, a sense of style and beauty, and a deep appreciation for the human form. Dr. Vitenas uniquely developed techniques for cosmetic surgery procedures are sought out by people across the country and by other surgeons, as well, wanting to improve their own Body Lift skills. He is proud to provide this wonderful procedure and give you a body that you can feel proud of.
About our facility:
The knowledge and experience found at Vitenas Cosmetic Surgery is one of a kind. Our professional staff is always here for you to answer your questions, set up appointments, and assist you with transportation and accommodations, if needed. Our elegant office is conveniently located in Houston, Texas. The staff at Vitenas Cosmetic Surgery is available to answer your questions, no matter how big or small. Give the office a call at 281.484.0088 to set up your body lift consultation.